When you connect to the VPS through the Remote Desktop client, the Remote Desktop feature on your computer "hears" the connection request through a defined listening port (3389 by default). You can change that listening port on your VPS by modifying the registry to secure your VPS.
Note: Since July 2019, GreenCloudVPS has the listening port changed as default, so any VPS deployed since then do not need to do this step. 
1. Start the registry editor. (Type regedit in the Search box.)
2. Navigate to the following registry subkey: HKEY_LOCAL_MACHINE\System\CurrentControlSet\Control\Terminal Server\WinStations\RDP-Tcp\PortNumber
3. Click Edit > Modify, and then click Decimal.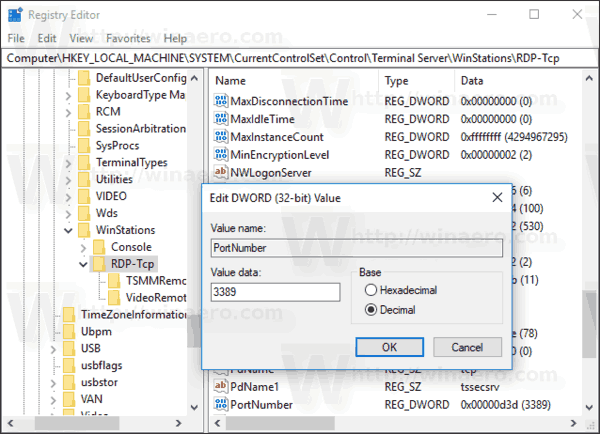 4. Type the new port number between 1025 and 65535 that is not already in use, and then click OK. For example you can enter 3300 as the new port. 
5. Close the registry editor, and restart your VPS.
The next time you connect to this computer by using the Remote Desktop connection, you must type the new port. If you're using a firewall, make sure to configure your firewall to permit connections to the new port number.
Your new Remote Desktop will look like this:
On Windows, enter VPS'sIP:Port like this: https://prnt.sc/otf012 (For example 192.198.0.1:3300)
On Mac: https://prnt.sc/otf0nq